The English language teaching solution you've been looking for.
For educators who are serious about teaching a complete mastery of English, our flagship product, The Complete Set, offers the most comprehensive learning experience on the market. The program boasts a full immersion, multimedia-based experience that caters to all learning styles. With a user-friendly interface that is simple and intuitive, students will enjoy a seamless, rewarding experience.
With The Complete Set, you will receive 11 complete learning programs in one all-inclusive package: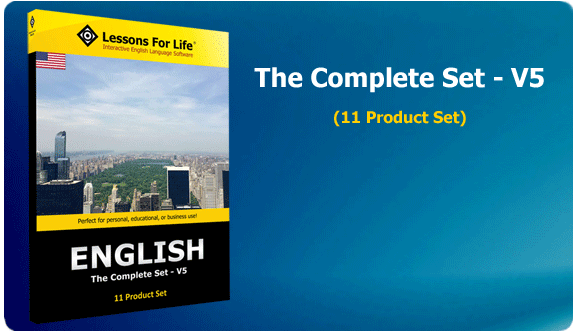 English: Beginner Level
English: Intermediate Level
English: Advanced Level
Practical English Grammar – Part 1
Practical English Grammar – Part 2
Practical English Conversations
AudioMate: Beginner Level
AudioMate: Intermediate Level
AudioMate: Advanced Level
AudioMate: Keywords & Phrases
Interactive English Games
Real reviews from real people

Heather B. (English Teacher)
San Diego, USA
Lessons For Life – English: The Complete Set
---
Excellent program
The Lessons For Life English program is an excellent tool for anyone who is already learning English and wants to improve their skills, or for those that are learning English for the first time.
Each lesson is comprised of real-life conversations, dynamic activities, and test taking practice. I really enjoyed the fact that the conversations are based on things happening in the real world such as parties, job interviews, daily news, gift giving, and lots more. Hearing the conversations in different English accents is also very helpful, especially for new learners who may struggle with understanding more than one version of an English accent.
I think one of the best features of this program is that the lessons provide thorough explanations for each response, rather than just simply giving you an answer. This program also has fun games that really encourage memory production and spelling. I love this English program. It provides a mix of practice with writing, reading, listening, grammar, and pronunciation. Lessons For Life – English software is by far the most practical and modern online English learning program that I have seen to date. I look forward to sharing this program with my future students! I give this program a 5-star rating.

Sol T. (English Teacher)
Mar del Plata, Argentina
Lessons For Life – English: The Complete Set
---
You take a virtual tour of the English language
Lessons For Life – ENGLISH is definitely a very complete software to work with in class. It takes you on a virtual tour of the English language and covers a wide range of topics, integrating various activities.
One of the tools I will certainly use a lot with my students is Audiomate. It allows them to listen to audio that sounds natural and authentic and thereby learn new idioms and common phrases that native speakers use. Of course there is some room for improvement, and the program could have a more modern design, but it is intuitive enough to make you overlook those details.
The different exercises and tests that it includes, alongside with the games it incorporates make Lessons For Life a great toolbox for all EFL teachers. If you're teaching an FCE preparatory course, the Practical Grammar Activities section proves great practice for the exam, since the intermediate and advanced levels cover most grammar points included in the test. Students will find that they have access to many different types of activities and games, such as puzzles, tables, charts, and crosswords, among many others. Not to mention that they will feel encouraged by the audio every time they complete an exercise correctly and hear a well done! every time they do so.
I would undoubtedly recommend Lessons For Life as a companion to any EFL class curriculum.
*EFL – English as a foreign language
*FCE – The First Certificate Exam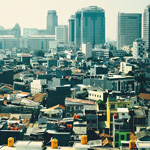 M. Bintoro
Indonesia
Lessons For Life – English: The Complete Set
---
It is a complete package
An interesting, unique, and complete English learning software for English learners who want to improve their English language skills in the four areas of expertise, i.e. speaking, listening, writing, and reading. This leaning media is  not only suitable for those wishing to start learning English from the scratch but also for those who have ever learn English and want to improve their language skills to the higher level of proficiency .
This learning software offers easy and interesting features which enable English learners to interactively spot the topics of their interests.  There are various kinds of interesting and up-to-date conversational themes covered in the learning software including general conversation and business conversation such as daily activities, marketing, technology, etc. The conversations are done by the native English speakers so that the English learners will be provided with correct pronunciation and spelling. Last but not least, the existence of Audiomate and English Games accompanying those English lessons will enlarge the English learner's knowledge as well as providing fun English learning.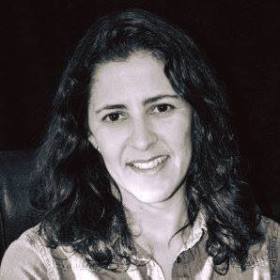 Eliane R.
United Kingdom
Lessons For Life – English: The Complete Set
---
straightforward English language software
The language learning software Lessons for Life offers a great number of features like audio, grammar, conversations, and interactive English games. The software includes 3 different levels – Beginner, Intermediate, and Advanced for every section. This helps because the user can test themselves to check what level are they and aim to finish all levels to achieve the best language knowledge.
Lessons for Life is a great example of a straightforward English language app and It is really simple to use.
This software contains 5 different modules:
Beginner, Intermediate, Advanced levels offer extensive interactive learning materials and activities. Units are topic based which makes it easy to choose the area of study you want to study. Each unit offers extensive interactive activities and relevant practical conversations from real life situations to enhance the learning material.
AudioMate is designed to improve the user fluency in English. It focuses on listening, speaking, and pronunciation skills. This module presents conversations, spoken by different people so the user can learn naturally different accents and different environments.
Practical English Grammar is designed to improve the user grammar, by practicing and revising the language in an exciting way. This module offers 2 parts.
Practical English Conversations enables users to improve their conversation and listening through real-life dialogues in different environments. Offers 3 levels.
Interactive English Games help the users to improve memory, vocabulary, and spelling skills. All three games are a fun way to learn and improve your language skills.
A negative point about this software is the design and some of the images look bit old.
In conclusion this software is very helpful for users who want to learn English.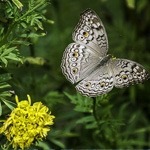 Sikarn (English Coach)
Chiang Mai, Thailand
Lessons For Life – English: The Complete Set
---
This program deserves 5 stars
I rate this English language learning software 5 stars and I would recommend it as an option for my students that are learning English. I like the software as it can be used in different purposes such as self-study or classroom resources for teachers.